Greetings from across the pond!
I am lucky enough to be in the UK for the Brexit vote. This is striking gold in political nerdom!
On my way to the UK I was planning on collecting Brexit ads. Sadly, I am seeing very few. In fact, the only one I saw was in a pub (surprise, surprise).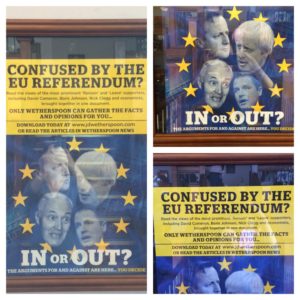 For those of you who aren't familiar with the term "Brexit," there is a referendum vote on Thursday June 23 to determine if the United Kingdom should leave the European Union.
This is a non-partisan blog and not having UK citizenship I really have no strong feelings towards the outcome of the vote. HOWEVER, I LOVE POLITICAL ADVERTISING! Actually, I love advertising in general.
The ad I found was in a pub called "Robert the Bruce" in Scotland. It appears to be owned by a bigger corporation, called "Wetherspoon."
Here is the ad
Dear Readers, can you please send the Brexit ads that you have found? Please comment below, share them on our Facebook page or email them to [email protected]
Just so everything is transparent, I am NOT being paid to write this post. But for what it is worth, while I was there, I ordered the Tika Masala. It was gluten free and delicious. The staff were able to get AG's food in record time even though they were really busy because of a town-wide festival!