I'm back! Welcome to Political Wife Life 2.0!
The site has been given a facelift and almost two years have passed since I last posted. Not that much has changed but I am older and wiser (though you would never know by looking at me)!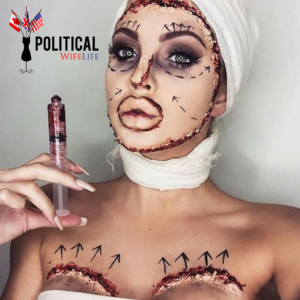 Instagram
Since my hiatus from blogging, I have been working hard on Instagram. Please comment below with your Instagram handle if you follow us because I would love to head over to your Instagram profile, give it some love, and get to know you better.
If you don't follow PWL on Instagram, please click here!
For those of you who aren't on Instagram, it is a social media site that, although it is owned by Facebook, Instagram is more about sharing your world through images.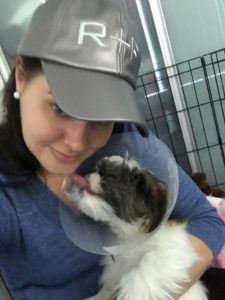 A picture really is worth a thousand words. Although this photo isn't the clearest or most attractive photo of me, it is a significant photo that summarizes a lot of what has been going on in my life since I last published a blog post.
In fact, I had no idea how significant this photo would be when I took it. It was just a quick selfie I took to make a friend smile.
The Story
The story behind the photo: My neighbour's dog had been spayed a few days prior and that day was her first day back to work since her fur baby's surgery. She asked me since I worked from home if I would be able to pop in and cuddle her dog throughout the day.
So, I snapped a quick picture of her adorable puppy and sent it to her while she was at work.
This is where it gets bizarre:
Last month, there was a mass-casualty attack near where I live. This photo was taken at the EXACT time the tragedy was taking place, only a few blocks away.

Designing My Life
But let's examine the photo. Here I am living life on my terms and doing something I love AND making money. Designing how and where I live has not only allowed me to take major stressors and challenges and make them into assets (which has tremendously helped my mental health and overall outlook on life) but also allowed me to help a friend and grab some puppy snuggles during working hours.
If I hadn't popped over to snuggle the puppy and taken a phone call on my way out the door to a craft store, I would have been in the exact place at the exact time of the attack. Creepy.

Anyways, I love my life, my outlook, my job, and the time and geographical flexibility it allows. This picture reminds me that I took control and designed my life the way I want it.
Work With Me?
Do you love your life and your job? I am looking for 4 people to join me in my business so if you live in Canada, USA, or Australia, DEFINITELY message me and I would love to chat with you. No experience is required. I am just looking for self-motivated people who are coachable.