One of the most challenging parts of Political Wife Life is the commuting. Every Sunday we pack up the family, the zoo, a few perishable groceries, my make-up bag, and a few favourite articles of clothing, and travel from the district to the capital.
Living in two places (on one income) is an art. Living in two places with an infant is a challenging and exquisite art form. As much as I would like to think my nomadic skills are that of Michelangelo, in reality they are more of a why-does-everything-looks-so-strange Picasso.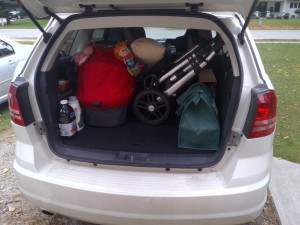 It might be easier to purchase two of every item and never have to drag anything back and forth between the district and capitol–at least that is what my husband thinks. Here is why he is wrong:
IT IS EXPENSIVE. We are on one income and, although my better half begs to differ, I try to be pretty careful how I spend money. That doesn't mean that I don't splurge, but in order to do that, I have to pick and choose where resources are going.
QUALITY OVER QUANTITY. I appreciate craftsmanship and I have clutter problem. So less is more.
THINGS HAVE AN EXPIRY DATE. I favour professional grade make-up so it tends to be a bit pricey. I have tried the Mabeline's gel eye liner pot and it is not in the same league as Bobbi Brown's.

Also, for some reason products last me a freakishly long time and they dry out/expire long before the tubes are empty. Therefore, duplicating my make up bag would not only be expensive, but items would have be to thrown out every few months anyways.
BABIES GROW QUICKLY. Buying them two wardrobes when some items only last a month seems both wasteful and unnecessary. However, some items are necessary and too large (e.g. a crib) to transport back and forth every week so duplicates were acquired.
PLW Hack: Buy Used, Borrow, and never underestimate the stuff you can find at the Dollar Store
So as a result, our "pack up and commute" Sundays are bit more complicate than M would like them to be.
Are you a seasoned traveller? What are you tips to travelling light while travelling with infants?